Where I come from in the hills of Tennessee, any combination of an old barn, good food, lots of friends and dancing most definitely calls for a memorable evening. YEEHAW! When I found this particular fundraiser, I immediately knew I had to share it. Fundraisers like this are just plain ole' fun and are sure to draw a crowd and bring in some cash for your adoption. If you have a good property with a barn that you can utilize or rent, this is a fundraiser that you must consider. Check out the details below from a fellow adoptive mother to see how they hosted their Barn Dance Fundraiser.
The excerpt below was written by Louise Gibson for her adoption blog www.thelittlestgibson.wordpress.com and posted here with permission. 
Nick and I got the idea of a barn dance from a college tradition that we loved.  We decided it would be a really fun way to raise money for our adoption. For anyone thinking about having a similar fundraiser, here are
the details.
We set our fundraiser up to have a flat fee that included dinner, drinks, dessert, and hayrides. We charged $20 per person, $60 for a family of four, and $5 for each additional child.  We sent out invitations to family and friends (especially ones that lived out of town) and used Facebook to spread awareness, remind them of the event, and generate excitement about our fundraiser. Nick and I handled all of the logistics, such as picking up food, getting auction items donated, and event setup (i.e. food, apparel, and auction items). Family and friends helped promote our event on Facebook and helped with various tasks at the event such as collecting money at the entrance and tearing down at the end of the night.  The barn did the rest including trash collection, porta potties, and other property management tasks.
The barn we rented is constantly used for events, and the cost included hayrides, setup, and cleanup. In addition to the cost of the ticket, we had a live auction and barn dance apparel for sale which brought in additional funds during the evening. We had a selection of pullover sweatshirts, t-shirts, baseball tees, and hoodies for sale. They all had "The Littlest Gibson Barn Dance" and the outline of Africa with a heart in the middle. The live auction included mostly donated items from friends and small businesses in our area.
Nick and I served everyone dinner which was a great chance to see everyone and thank them for coming. We worked with a local restaurant and had catered barbecued chicken and pork sandwiches, coleslaw, green beans, and cornbread. So many of the places we worked with were really gracious about giving us a discount when we mentioned that our fundraiser was for our adoption, so make sure to mention your cause! We included drinks with dinner, offering water, beer, and hot chocolate. For dessert, we let everyone make their own s'mores around the bonfire.
We started playing music after the auction and there was a LOT of dancing! We made a playlist and used an iPod for the music. The barn had speakers, lights, and all of the hookups. We tried to keep the music upbeat, current, and family-friendly. Everyone seemed to have a great time, especially once the parents started dancing.
We spent about $1,500 total on the venue (majority of the cost), food, and beer. However, when it was all over and all the money was totaled, we had raised a little over $4,300!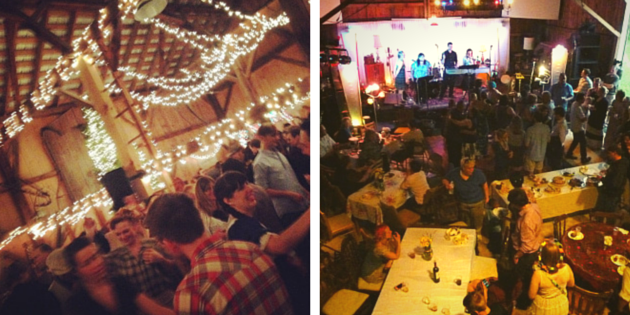 If we had a barn dance again, here are some things we would do differently:
We would make sure the entrance was easily recognizable. The barn was off of a side road and some people had a hard time finding it.
We would use an actual auctioneer. Nick and I were in charge of auctioning off items, and while it was fun, I feel like people would have gotten more into it, bid higher and raised even more funds if there was a professional.
We would pre-sell lower priced tickets to get a better idea of how many people to expect and encourage more people to buy tickets early.
Follow the Gibson's adoption journey at www.thelittlestgibson.wordpress.com

The following two tabs change content below.
Latest posts by Guest Contributor (see all)
Comments
comments