Do you have what it takes to challenge yourself and your family to save? The premise behind the 52-Week Adoption Savings Challenge is simple. Commit to save for 52 weeks starting with $1 in week 1 and increasing by $1 every week. 
Week 1 = $1. Week 2 = $2. Week 3 = $3 and so on.
If you decide to take "The Challenge" starting with $1 and finishing at $52, you will save a total of $1,378 over the course of 52 weeks. During weeks 1-26, you start small and save $351, or an average of $13.50 per week. During weeks 27-52, you will save $1,027, or an average of $39.50 per week. For your entire 52 weeks, you will save an average of $26.50 per week. That's impressive! And while it might seem like a lot, especially if you already live on a tight budget, with practice and discipline, you can do it!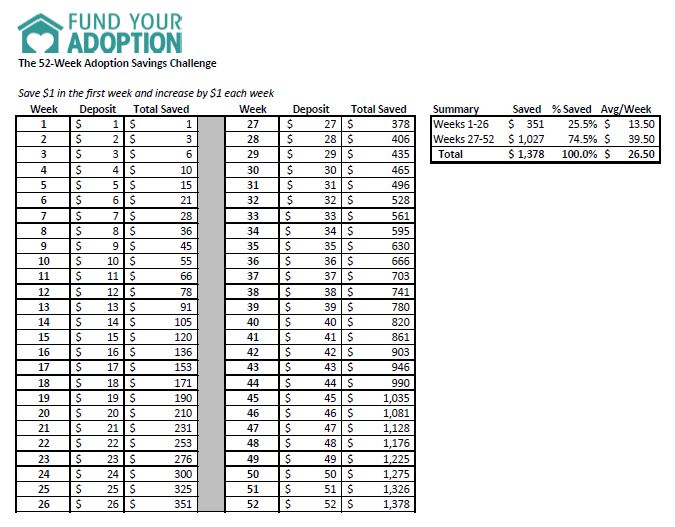 Download The 52-Week Adoption Savings Challenge PDF
Tips For 52 Weeks Of Success
Just Get Started. The goal of saving $1 in week 1 is to start small and eliminate any excuse as to why you can't save. ANYONE can save $1! In fact, you're only required to save $10 during the entire first month. Don't wait or be concerned about the later weeks. Start now. Saving is a mindset and skill that is quickly developed through practice.
Build Confidence. Practice makes perfect and it reveals better, more efficient ways of doing things including how to save and where to look for bargains. As you find ways to cut out unnecessary expenses, you'll begin to view your money differently. You'll start comparing prices, looking for deals, and trimming the fat from your budget. This is an ongoing process and each time you will find new line items in your budget that you can cut, sometimes in places that you once thought impossible. As you see your savings grow, it will give you confidence and inspire you to keep going.
Back in 2009, when Lori and I made the commitment to pay off debt, we experienced these things. It seemed IMPOSSIBLE! We ran the numbers and we concluded that it would take over 5 years. However, our confidence quickly grew and we became so resourceful with our money that we paid off nearly $90K in debt in just over 18 months! Today, we use the same knowledge and skills that we developed to invest and acquire new wealth-building assets and will continue to use what we learned about money for the rest of our lives. It certainly helped throughout our adoption fundraising as we raised $47K to fund our adoption debt-free. 
With discipline and focus, you can move mountains and achieve whatever savings goals you set. I encourage you, no matter where you are, to just get started.  
Identify More Creative Ways To Save and Earn. As you build confidence in your ability to manage money more efficiently, you'll start looking for additional ways to save. Naturally, your ideas will get bolder and more sophisticated with time. We hope, over the course of 52 weeks, that you meet or exceed your savings goal. For some families, they have enough room in their budget to cut out some expenses, hit their savings goal and still have enough to live on. For others, this might not be possible. It may be necessary to take on a part-time or second job. Maybe it's working as a barista at the local coffeehouse, teaching piano lessons, buying old furniture, repurposing it and selling for a profit. The possibilities are endless. Everyone has unique abilities and strengths that enable them to make money. For me, it is business consulting and investing in stocks. For Lori, she is way more creative and does various things to save and generate income.
Finding items at garage sales that she turns around and resells on eBay, Craigslist, or VarageSale (it's like Craigslist for women) for a profit.
Buying baby clothes at garage sales and thrift stores. She gets most items for between $.50 and $1 and some even have the tags still on them and have never been worn. When our son grows out of them, Lori organizes the clothes by size, takes pictures of each item and bundles them together for between $20 and $50 depending on the # of pieces, type, and quality. This saves and earns us a good chunk of money each year as children's clothes are expensive!
Purchasing quality old wood furniture inexpensively and refurbishing it to look shabby chic and reselling it for a profit. For our girls' room, Lori bought a complete 4-piece set of solid oak bedroom furniture for $150. There was one piece that we didn't have space for so she sold it for $100 and nearly recovered the cost of the entire set. She later repurposed the remaining 3 pieces and furnished the entire room with DIY flare.
In addition, we've made over $4,000 tax-free from cash back credit cards in the last 3 years. We're always looking for various opportunities and we try a lot of things to save and maximize our income. Sometimes things don't work out like we plan. But we've gotten pretty good where we're successful with most.
Have Fun! View this savings challenge as a game. You shouldn't dread it. Saving is fun when you have more money to spend on the things that matter most like bringing your child home and making memories. When you have fun and make it a challenge, you see new opportunities and train yourself to be creative. Being resourceful is a learned skill that could literally keep many thousands of dollars in your pocket over the course of your life. With the right attitude, the 52-Week Adoption Savings Challenge could impact far more than your adoption. Have fun, be resourceful and teach these skills to your kids.
Remember: you can always modify the challenge to fit your situation. This is just a guide. If you're already an established saver and have room in your budget to save more, simply commit to save as much as you can. One week it might be $50, another week $15, another week $100 and so on. The key is that you are consistently saving and growing your balance. Another option could be to do the savings challenge in reverse. Maybe you want to be more aggressive with your savings and start with $52 in the first week. At the end of the week, simply cross out the amount in the challenge table that you were able to save along with the balance and write in the correct numbers. Everyone is in a different place financially so it's important to find what works for you.
The following two tabs change content below.
Jeremy Resmer
Child Advocate. Entrepreneur. Fitness Junkie. Parent. Jeremy is an adoption fundraising coach that provides creative strategies and resources that empower families to adopt without debt.
Latest posts by Jeremy Resmer (see all)
Comments
comments