Interest free adoption loans can play a vital role in the adoption process and enable you to make payments on schedule. If you need a large amount of cash to pay for a home study, agency fees, travel or other adoption expenses, whether planned or unexpected, you may want to consider an adoption loan.
There are 3 primary borrowing options to consider:
Interest Free Adoption Loans
Low Interest Adoption Loans or Personal Loans
Credit Cards
If you decide a loan is right for your family, we recommend exploring all of your options for interest free adoption loans first. If you don't qualify for an interest free loan or need money in a hurry due to an emergency or unexpected adoption expense, a low interest adoption loan or unsecured personal loan are options to consider.
Personal loans, like credit cards, don't require collateral. However, unlike most credit cards, personal loans have fixed interest rates and payments that allow you to budget accordingly. In addition, it's likely that you'll be able to borrow a larger amount of money at a lower rate with a personal loan than with a credit card.
A word of caution: if you decide to get a loan to help finance your adoption, be disciplined and only use the funds for adoption expenses. Don't go out and purchase a new TV or rack up expenses unrelated to your adoption on your credit card. The goal here is to decrease financial stress, give yourself time to fundraise the amount of your adoption expenses, and adopt debt-free.
Start With Interest Free Adoption Loans
Interest free adoption loans can help significantly with your adoption payments and provide several benefits worth considering: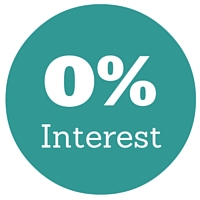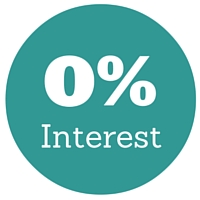 1. Access to funds – Funds are immediately available to make payments. This greatly reduces the stress and likelihood of a cash flow crunch. The last thing you want is to be stressed out and have to ask friends and family for money in a pinch.
2. Buy yourself time – Make payments toward your adoption and bridge the gap while you fundraise, apply for grants and utilize the Federal Adoption Tax Credit to support loan re-payments without incurring any interest.
3. Better, more manageable repayment terms –  Why incur any additional fees or interest if you don't need to?
When should I apply?
After your home study is approved. Loans are generally made on a rolling basis.
How long will it take for the loan to be underwritten and for me to receive the funds?
It depends. Generally allow for 4-6 weeks.
What if something drastically changes and I need the funds immediately?
Each adoption is unique. In the event that you get matched with a child quicker than expected, ask the loan organization to make an exception to expedite your loan.
Can I use a credit card as an interest free loan?
Absolutely. However, be sure to apply for a card with a 0% introductory APR for 18 months and a high enough credit limit to make a large payment. Use your card in the event of an emergency or if an unexpected payment comes due before you have the funds available.
Be disciplined, make your credit card payments on-time, and pay your balance off in full before the introductory period ends in order to avoid any fees. If you want to get really creative, learn how we earned more than $4,000 tax-free from cash back credit cards.
Interest Free Adoption Loans

ABBA Fund – Covenant loan for Christians to help eliminate the cash crunch of an adoption. Approval takes 6-8 weeks.
Hebrew Free Loan Association – Offers interest free loans up to $15,000 for adoptive families of Jewish faith through local chapters across the US.
International Association of Jewish Free Loans – Nonprofit non-sectarian agency, providing interest free adoption loans to people in need, regardless of faith. Loan applications are offered by local chapters and can be processed in as few as 7-10 days.
Lifesong For Orphans – The Lifesong Legacy Fund offers interest-free adoption loans up to $12,000 to help Christian families overcome the high cost of adoption.
Oxford Adoption Foundation – This 3-phase loan program offers up to $5,000 that will be funded upon completion of your adoption.
0% interest for years 1-3
3% interest for years 4-6
6% interest for years 7-9
Pathways For Little Feet – Provides interest free adoption loans to assist families with the final steps of their adoption. Pathways will accept applications as soon as the home study has been approved and, on rare occasions, they can rush an approval within a week of a birthmother's due date or your travel date.
Low Interest Adoption Loans
SoFi – Offers low interest (as low as 4.04%) personal loans ranging from $5,000-$100,000. There are no fees and loans can be 3, 5, or 7 years. SoFi offers unemployment protection in the event that you lose your job. Find Your Rate!
Lightstream – Offers adoption loans* with low fixed rates for families with excellent credit. Loan amounts range from $5,000 to $100,000 with flexible terms. There are no origination fees or prepayment penalties. Your best loan experience guaranteed. Apply Now!
Upstart –  A smarter loan! There's more to you than just your credit score. Your education and job history are considered and allow you to get a lower rate. Upstart offers loans from $3,000-$35,000 with rates as low as 4.7%. With fixed rates, no hidden fees or prepayment penalties, you can save money and build credit with a better personal loan. Get your loan approved and have your money the next day. Get Started Now!
A Child Waits Foundation – Offers low interest adoption loans (currently 3%) up to $10,000 to help families cover the cost of adoption. Loans can be paid back as quickly as you choose for up to 5 years, at which point they must be paid off in full. A Child Waits Foundation also offers adoption grants up to $5,000.
America's Christian Credit Union – Not interest free, however, ACCU offers several adoption-specific financial products, including loans up to $50,000, to help finance your adoption. ACCU also offers a $500 adoption grant available to members.
*All loans are subject to credit approval by LightStream. If approved, your APR will be based on loan purpose, amount, term and your credit profile. Conditions and limitations apply. Advertised rates and terms are subject to change without notice.
The following two tabs change content below.
Jeremy Resmer
Child Advocate. Entrepreneur. Fitness Junkie. Parent. Jeremy is an adoption fundraising coach that provides creative strategies and resources that empower families to adopt without debt.
Latest posts by Jeremy Resmer (see all)
Comments
comments