Are you looking for one tool that will help you manage all of your adoption fundraising? Well, now you've found it! Since we first began researching adoption crowdfunding, Pure Charity has been our top pick and we're constantly recommending it to the families we work with.
Pure Charity and Fund Your Adoption have teamed up to create the most effective way to fundraise for adoption yet. Pure Charity has helped more than 500 families raise over $2.5 million for their adoptions and our combined technology, resources and experience are second to none. We're on a mission to help families adopt without debt!
Complete your profile in less than 5 minutes!
Why We Recommend Pure Charity
No Waiting Period To Begin Fundraising – This is a game-changer! Some families want to start the adoption process but don't have any money for the home study and initial agency fees that often start between $1,500 and $5,000 upfront (fees vary by agency). Pure Charity allows you to start fundraising immediately, even if you haven't selected your adoption agency. When you sign up, you will be asked to select the 501(c)(3) adoption agency or organization where funds will be sent. You can either choose your agency or, if you don't have one yet, simply select Pure Charity to get started (don't worry you can change this later).


Here's why this is so important: even if you haven't saved any money for your adoption, you can still move forward and start a Pure Charity fundraiser 30, 60 or as many days in advance as you need to raise funds prior to when your first agency fees are due. If you're working with a private adoption agency, the process is simple. If you're working with an attorney, Pure Charity will work with you to identify another 501(c)(3) organization (i.e. church or foundation) that could receive your funds and send them to your service providers.

Donor-Advised Fund – Pure Charity currently works with more than 150 adoption agencies and it's really easy to coordinate fundraising activities when fees are due. Once your adoption agency accepts your fundraiser, any amount of the funds you've raised can be sent to your agency at any time during your adoption process. The fundraiser doesn't actually have to be complete for funds to be disbursed. This means that the funds you've raised can be released and applied toward your adoption expenses to meet specific deadlines or payment schedules. This is a HUGE benefit that you should consider when selecting which crowdfunding platform is right for you.
Fundraising Tools – Pure Charity makes it easy to setup and launch your adoption fundraiser, provides world class tools to share updates, pictures and videos, features to invite new supporters, embeddable fundraising widgets and plugins for your blog and social media platforms, and up-to-the-minute fundraising statistics. These features and tools are a perfect complement to your adoption blog that will increase your fundraising and help you share your story.
The Rewards Network – Pure Charity Rewards has access to over 1,000 of the top brands and allows you to earn money back from your everyday purchases and those of your supporters that can be applied toward your adoption fundraiser. Pure Charity also has a convenient browser plugin that makes it even easier to shop and save.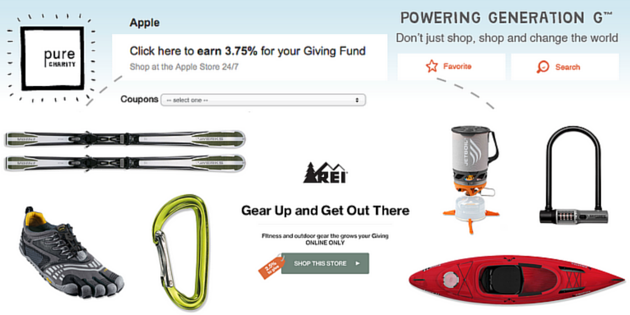 Personal Fundraising Coach – Pure Charity has helped over 500 families succeed with their adoption fundraising and raised more than $2.5 million. When you use Pure Charity, you will have a personal fundraising coach that will help you get started and fully funded.
Low Fees – Pure Charity deducts 5% when funds are disbursed which covers all credit card fees, tax receipts, grant administration, system maintenance, and (the best part) the personal fundraising coach. When selecting an adoption crowdfunding platform, don't base your decision solely on fees. Be sure to consider all the benefits that each fundraising platform provides. In our opinion, Pure Charity offers the best value for adoption fundraising hands down!
Matching Gifts – When employees donate to nonprofits, many companies will match these donations if the nonprofit is a registered 501(c)(3). Pure Charity is authorized to accept matching gifts. Not all companies offer charitable giving programs but some do and adoption will sometimes qualify. Encourage your supporters to check with their HR departments to find out if they offer corporate matching gifts for adoption.
Easy To Use – There's a very simple sign-up process. Create your account in less than 5 minutes and get started. Enter your family information, share your story, add photos and you're ready to start promoting your adoption fundraiser. Pure Charity makes it easy for supporters to give a one-time donation or set up automatic recurring donations.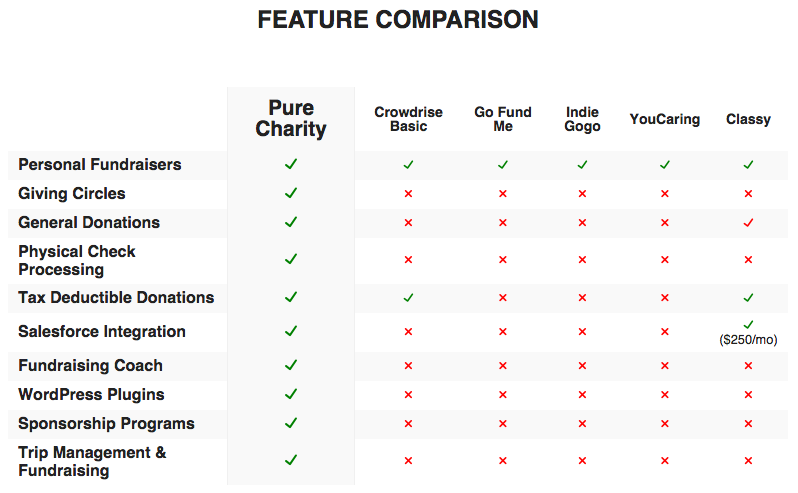 Pure Charity provides the best experience for families that are fundraising for adoption. We haven't found another crowdfunding platform that even comes close in terms of features, benefits and overall value!
The following two tabs change content below.
Jeremy Resmer
Child Advocate. Entrepreneur. Fitness Junkie. Parent. Jeremy is an adoption fundraising coach that provides creative strategies and resources that empower families to adopt without debt.
Latest posts by Jeremy Resmer (see all)
Comments
comments