Adoption Fundraising
Made Easy!
Pure Charity is an adoption fundraising platform that allows you to raise 100% of the expenses for domestic, international, and embryo adoptions. All donations are tax-deductible and updated in real-time. Pure Charity is easy to use and allows you to manage all of your adoption fundraising completely online. You even get your very own personal fundraising coach!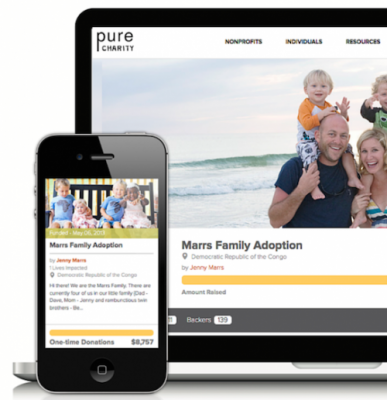 WHAT PARENTS SAY ABOUT PURE CHARITY ADOPTION FUNDRAISING
"Pure Charity offers a redemptive opportunity to harness consumerism for good. It's just so brilliant." Jen Hatmaker
"This is a great new source of adoption funding for many people." Michael Robison
"Thrilled that the powerful Pure Charity platform can now be used for adoption fundraising!" Julie Gumm
"Simply the best tool to manage all of your adoption fundraising." Jeremy Resmer
FEATURED ADOPTION FUNDRAISERS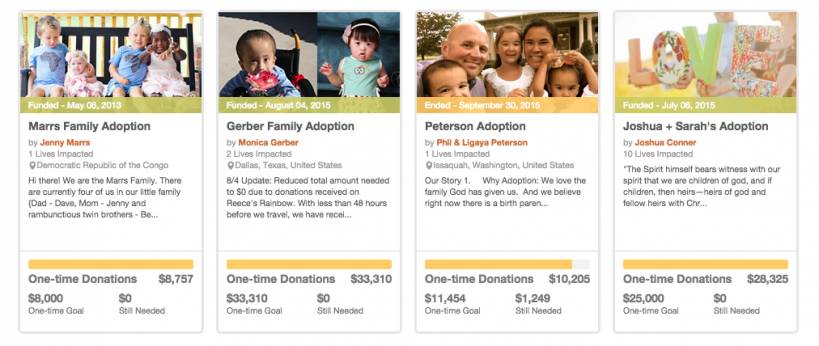 THE BEST WAY TO MANAGE YOUR ADOPTION FUNDRAISING
Pure Charity Provides Incredible Benefits!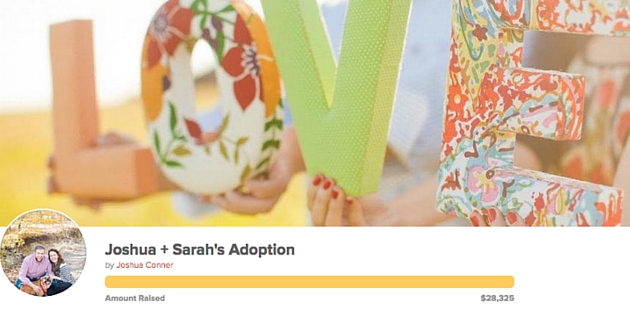 Start Fundraising Immediately – There's no waiting period to begin!


Raise 100% of Your Adoption Expenses – For domestic, international, and embryo adoptions.


Personal Fundraising Coach – Pure Charity has helped over 500 families succeed with their adoption fundraising and raised more than $2.5 million. When you use Pure Charity, you have unlimited access to a personal fundraising coach that will help you get started and fully funded.


Tax-Deductible Donations – It's easy for supporters to give a one-time donation or set up automatic recurring donations and accepts credit card, ACH, and physical check donations for online giving. All donations are tax-deductible and Pure Charity sends out tax receipts to your supporters.


Donor-Advised Fund – Pure Charity works with more than 150 adoption agencies. Once your agency accepts your fundraiser, any amount of the funds you've raised can be sent to your agency at any time during your adoption process to meet specific deadlines or payment schedules.


Effective Fundraising Tools – Pure Charity provides powerful tools like Giving Circles, The Rewards Network, and social sharing widgets to promote and manage all of your fundraisers. Send all of your donors to your online fundraising page and Pure Charity handles the rest. Check out our list of 101 Adoption Fundraising Ideas! 


Giving Circles – Imagine 100 of your family and friends who decide to give $10 a month. That's $1,000 a month or $12,000 a year toward your adoption fund! Many adoptions take 1-3 years to complete and most people can spare $10 per month. Pure Charity makes it easy to use Giving Circles and increase your adoption fundraising.


The Rewards Network – Pure Charity Rewards has access to over 1,000 of the top brands and allows you to earn money back from your everyday purchases and those of your supporters that can be applied toward your adoption fundraising goal. Embed the plugin on your adoption blog and encourage family and friends to shop and save.


Low Fees – Pure Charity deducts 5% when funds are disbursed which covers all credit card fees, tax receipts, administration, and the personal adoption fundraising coach!


Matching Gifts – Pure Charity is authorized to accept corporate matching gifts. This is a huge opportunity because more than 40% of U.S. companies offer employee adoption benefits.


Easy To Use – Create your adoption fundraising profile in less than 5 minutes. Simply enter your family information, share your story, add photos and you're ready to start promoting your adoption fundraiser.