Have you considered selling t-shirts to fundraise for your adoption? Many families do.
We recommend it as a great way to:
1) Share your adoption story
2) Get friends and family members involved
3) Provide a quality t-shirt for people to wear
Our Success With Adoption T-Shirts
We managed our adoption t-shirt fundraising campaign ourselves (well, actually my wife did) the old-fashioned way. We successfully sold 215 shirts and raised $2,105 (netting just under $10 per shirt), after printing and shipping costs, that went toward actual adoption expenses.
While we consider our campaign a success, it was a lot of work to keep track of inventory, ship all the orders, and continue promoting through our blog and social media. Knowing what we do now, we would definitely do some things differently if we ran another adoption t-shirt fundraising campaign today.
For starters, we would use an all-in-one t-shirt company to manage our campaign. These companies allow you to create custom adoption t-shirts and use crowdfunding to promote your campaign. Our favorite company for t-shirt fundraising is Bonfire.
Advantages of T-Shirt Fundraising Sites
1) No Upfront Costs. No Inventory. No Shipping. Let your t-shirt company do all the hard work (setup, printing, payments, fulfillment). They can do it better, faster and cheaper. You just focus on promoting your campaign and selling adoption t-shirts. Starting your campaign is risk-free and you won't incur any out-of-pocket expenses. When we sold t-shirts for our adoption, we paid over $1,400 upfront to have 245 shirts ordered and shipped to us!
With Bonfire, it's only after you meet your minimum shirt sales goal, will credit cards be charged and t-shirts printed. A portion of the proceeds from each sale is deducted and goes toward paying for the cost of the shirts, printing and shipping. You never have to worry about ordering the right sizes, getting stuck with extra shirts, or being out-of-stock. It's a royal pain to constantly keep track of all your inventory and ship each individual shirt to your supporters. We know because we did it. Never again. With Bonfire, it's one and done! Once your campaign closes, your adoption t-shirts are printed and shipped to all your supporters within 14 days.


2) Secure, Customized Campaign Page. Quite possibly the best part about using Bonfire. You can literally create your design, set your goal and donation amounts,  enter your campaign details, establish payment information and, voilà, your personal campaign page is live and ready to take orders for your adoption t-shirts in 5 minutes or less. I didn't believe it could be done until I tested it out for myself. Granted, you probably want to spend some time developing your story and the message of your campaign. But if you had it ready to go or wanted to create a campaign and take orders immediately, you could.
3) Engagement. As part of your personal campaign page, you can upload photos, provide updates, interact with supporters, and share your link on your blog and social media. You have all the tools to direct people to your campaign and maximize engagement and sales. When we sold our t-shirts, we relied on social media and our blog and directed people to make payments with PayPal. While our system got the job done, a secure, personalized page that will track orders, inventory, and provide real-time fundraising updates is definitely the way to go and removes all the hassle.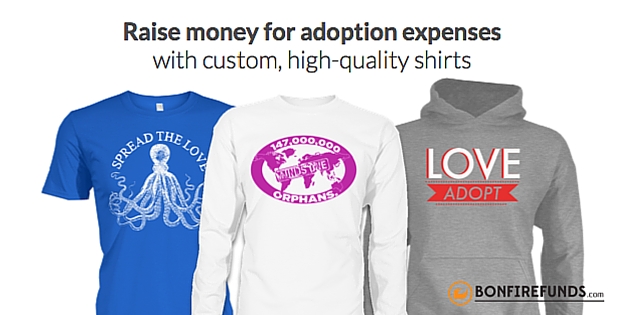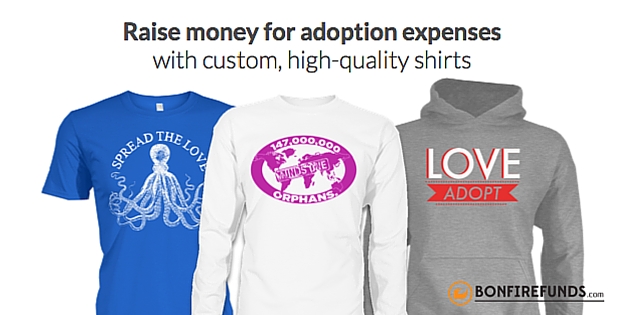 4) High Quality Shirts. No one wants to a wear crappy t-shirt, especially if they are paying a premium to support your cause. Sell products that look awesome and feel comfortable that your people will be proud to wear. Choosing your design is entirely up to you. Select from 50 awesome adoption t-shirts from the design library, have a graphic designer develop a custom design for you or you can even create your own.
For our adoption, we worked with a friend, who is a graphic designer, to develop a custom design (see it here). She was great but we still needed to choose the style of shirt and colors we wanted to offer. We were very happy with our selection but it took far longer than we expected and required a lot of back and forth with the printer over the course of a few days to make sure everything was done correctly. With Bonfire, it can be done in a matter of minutes!
There are a few drawbacks to using a company such as Bonfire but, in our opinion, these are minor in comparison to all the benefits.
Shirts aren't shipped until about 14 days after your campaign closes so supporters will not receive the shirts immediately. The longer it takes you to complete your campaign, the longer your supporters will wait to receive their shirts. If you let them know this in advance, it shouldn't be a problem.
You may want to run a campaign multiple times or over a longer time period to sell more shirts. Bonfire lets you run your campaign for 20 days. Once that time is up, you'll need to re-launch another campaign if you want to sell more shirts.
If you don't reach the minimum number of shirts, none of the cards are charged and your t-shirts will not be printed. This will probably frustrate some of your supporters so make sure you effectively promote your campaign and sell the minimum number of shirts.
If we ever do another t-shirt fundraiser, we will definitely use an all-in-one custom t-shirt company. If you're interested in starting a t-shirt fundraising campaign for your adoption, we recommend Bonfire. In our opinion, these two companies are the best and allow supporters to donate additional funds above and beyond the cost of the t-shirt!

BONUS: Sign Up For Bonfire Now And Receive An Extra $1 Per Shirt Sold – Up To $100!
The following two tabs change content below.
Jeremy Resmer
Child Advocate. Entrepreneur. Fitness Junkie. Parent. Jeremy is an adoption fundraising coach that provides creative strategies and resources that empower families to adopt without debt.
Latest posts by Jeremy Resmer (see all)
Comments
comments