"Adulting" is not always fun.
"For years, I dreaded the evenings because I didn't have a meal plan. I love cooking but, like everyone, I'm busy and usually don't have time to prepare a meal from scratch."
Meal planning and putting healthy food on the table has been one of those daily responsibilities that cause the most stress for me. I could easily just nuke some chicken nuggets or throw a pizza in the oven most days, but that's not necessarily the healthiest path to take. I think it's safe to say that many of us are realizing the consequences of our fast-food society and are trying to take steps toward a healthier lifestyle. Not to mention, eating out is expensive!
So what is one to do? How do we provide healthy meals that don't break the bank or cause us to lose our minds at 4pm every day? How do we organize ourselves so that we don't have to make multiple, unnecessary grocery store trips throughout the week with all the kids in tow? I want to share with you my journey that I've been on as a fellow mom because, well…us sisters have to stick together!
Back when Justice was a baby, I found a meal plan that I loved! Every week I would get an email with a grocery list and recipes for five dinners. I would print off the list, go shopping, and try out the new recipes that week. This was great, for a season, because I only had to go shopping once a week and each afternoon I knew I would have all the ingredients to do my cooking that evening. Then, enter toddlers. My magical world of tastes, flavors and variety was officially over. My 4pm stressor immediately returned. 
Unfortunately, my meal plan was no longer working for our whole family, so we had to figure out something else. I tried other methods and tried-and-true recommendations, but nothing seemed to work. The search has literally been going on for years now…until recently.
My goal was simple: Figure out an organized meal plan that allows me to provide healthy meals for our family, limiting our spontaneous, unnecessary eating out trips, to save money, reduce stress, and cut down the amount of time I need to spend in the kitchen each day.
I met Erin from MyFreezEasy at a conference and saw her promotional signs around her booth that indicated that her program could help someone put together 10 healthy, inexpensive meals in just 1 hour. I had to go see what this was all about.
Considering my constant struggle in this department, I went up and said, "Please help me! I'm dying in the kitchen!" (I bet she hasn't heard that one before!)
After learning more about her meal plan, I knew I had hit the jack pot. But still my doubtful mind wondered, "Can this really be true? There's got to be a catch to this. Maybe I can put these meals together quickly, but they probably taste terrible. There's no way these can be healthy either!"
But I knew I had to put it to the test. I was desperate. So I invited my friend, Traci, to join me, another momma of 4 who was a 4pm-kitchen-stresser just like myself.
Our first MyFreezEasy prep session was hysterical. Traci and I thought we would DOUBLE the recommended 10 meals and try to stock up our freezers for the summer. We ended up walking away with over 20, 8-serving meals each. Seriously, you should've seen my kitchen. I didn't have bowls big enough for mixing, so we had to recruit garden planters and tubs from the garage to fit all the ingredients. At one point, I had to sit on the floor to prepare salmon packs while Traci browned 32 pounds of hamburger meat on the stove in 4 huge pots. Hilarious!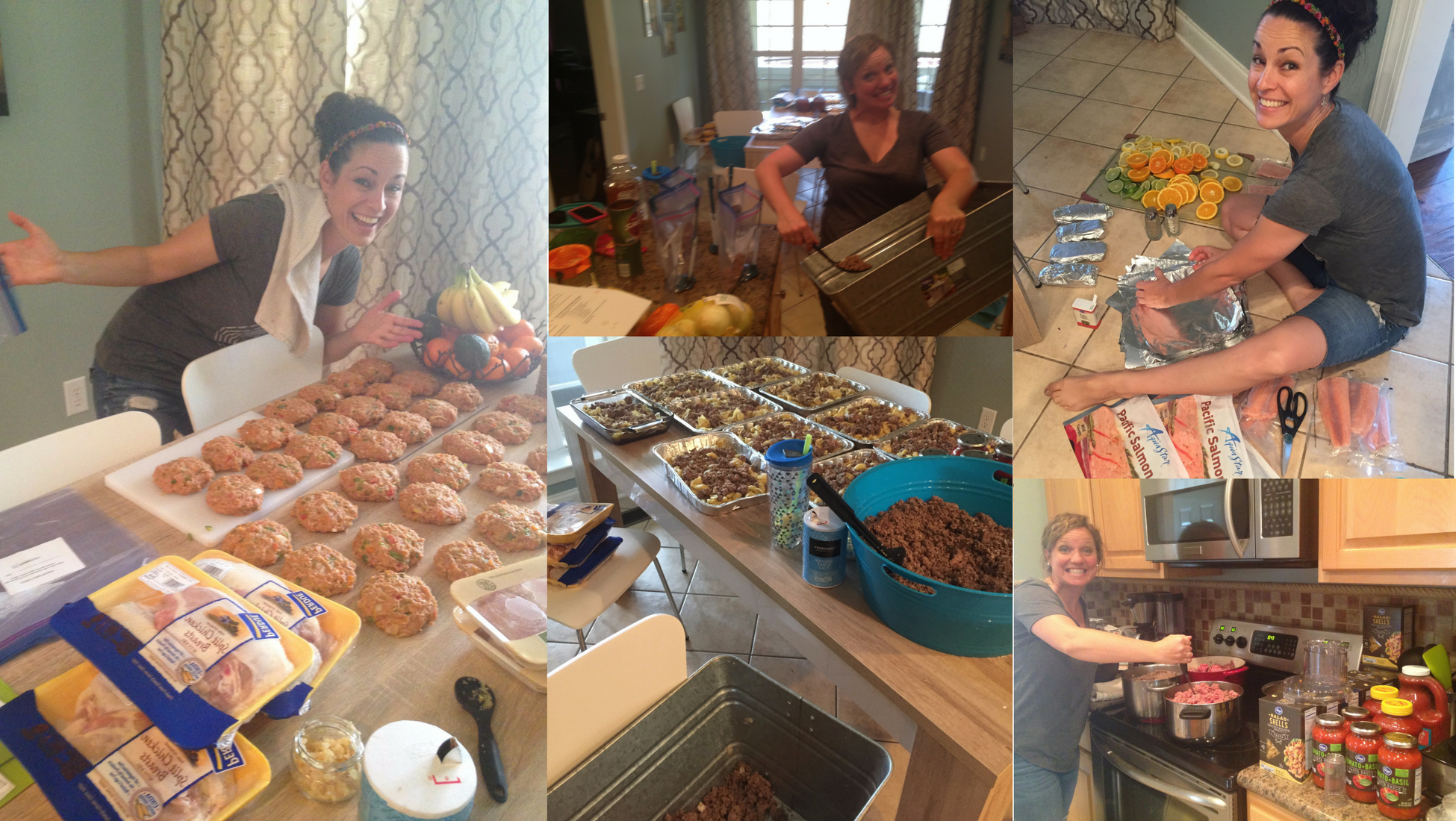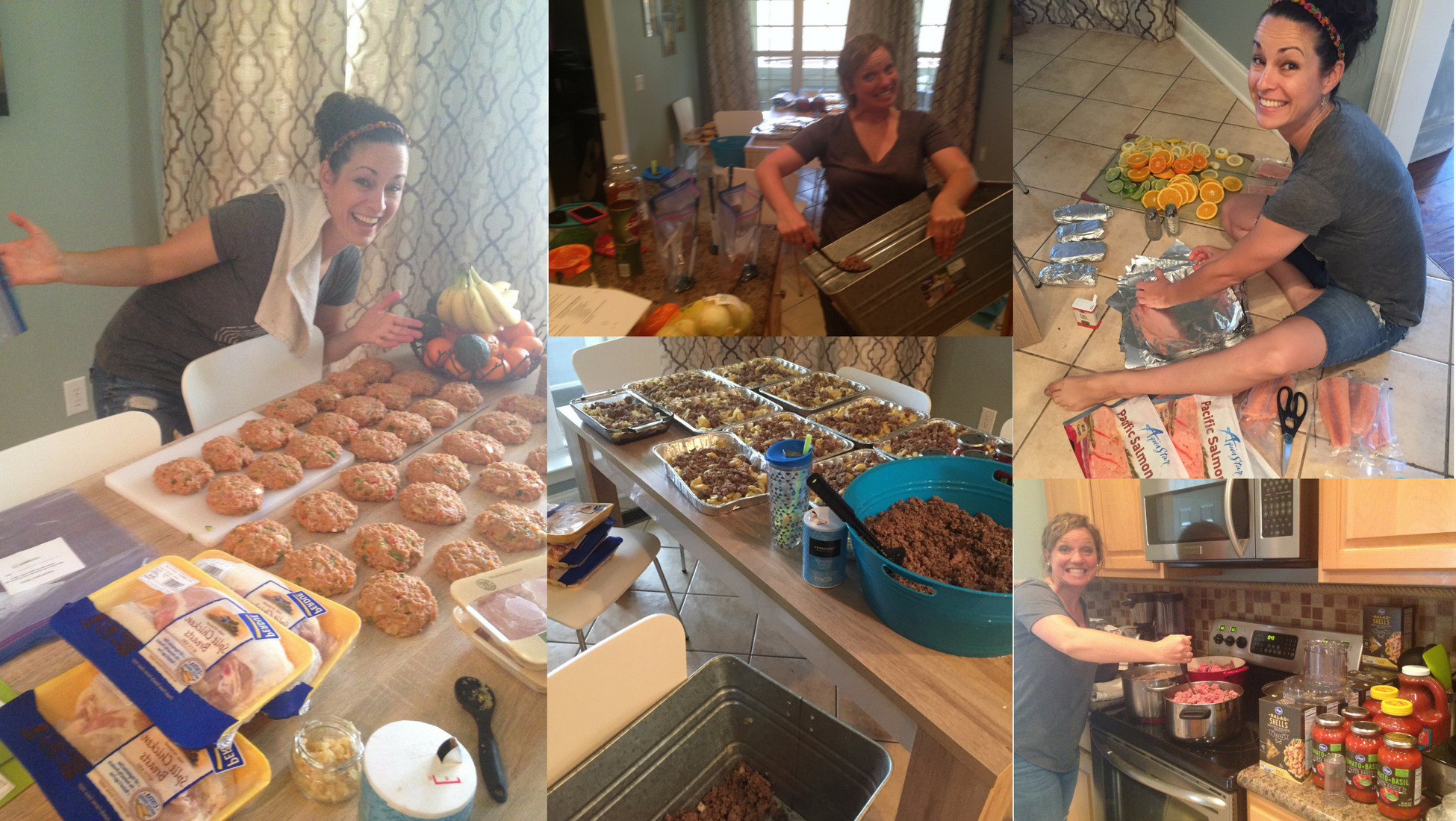 Meal Plan Lessons Learned
Stick with Erin's recommendation of 10 meals during a prep session (unless, of course, you want to stock up for a major life event, i.e. preparing to bringbaby home, upcoming surgery, etc.).
So what's the verdict, you might ask?? The meals have been WONDERFUL! My family has been going crazy over them! There has been one meal that we won'tdo again because it was too spicy, but all in all, they have been delicious and perfect for littles.
Why I Love MyFreezEasy Meal Plan
It takes me about 5 minutes to select the meals I want to prepare using either my computer or the mobile app.

I can work around any allergies or cooking preferences (Instant Pot, slow cooker, grill, etc.) with ease and select ones that work for our family.

Each recipe comes with a label to put on the bag or tray that has the name of the dish and cooking instructions.
I can pick my serving sizes. I have been creating 8-serving recipes for my family of 5 so that we normally have enough for lunch or dinner again the next day! So in reality, after 1-2 hours of food prep, I have 20+ meals prepped for my family if you include the leftovers. That's enough for 2-3 weeks for us.
The meal prep session is a carefully crafted instruction sheet that makes putting the meals together a BREEZE.
MyFreezEasy has been a game-changer for this busy, stressed-out momma! I don't ever see myself going back to how things used to be.
And for those of you who have adopted already or are preparing to bring that precious one home, I would encourage you to use this system to get yourself out of the kitchen and into the playroom! Bonding, cocooning and spending priceless time with your children actually IS possible!
If you're ready to get started with MyFreezEasy, Erin has offered an exclusive 20% discount for Fund Your Adoption families. Learn more and sign up here!
The following two tabs change content below.
Lori Resmer
Child Advocate. Entrepreneur. Fitness Junkie. Mommy and Wife. Lori is an adoption fundraising coach that provides creative strategies and resources that empower families to adopt without debt.
Latest posts by Lori Resmer (see all)
Comments
comments