If you've been in adoption circles for any length of time, you've probably seen families promote a version of the puzzle fundraiser, where individuals can "sponsor" a piece of the puzzle by making a donation toward the adoption. As each sponsor donates, their name is written on the back of a puzzle piece.
We love this one in particular because of its symbolism and simplicity. The adoption journey is one that requires support and encouragement from so many and this puzzle fundraiser is a visual representation of other people helping to bring your family together….one piece at a time.
The simplicity of this fundraiser should not be overlooked either. The only upfront cost is the puzzle itself. Aside from that, your job is to promote this thing like crazy on social media sites and get your friends and family involved to help spread the word. Oh, and let's not forget….the fundraising potential is enormous!
For example, if you were to do a 500 piece puzzle at $20/piece, like the Thatcher family in the post below, you would bring in $10,000. WOW! However, the absolute best part of this fundraiser is that in the end it will serve as a visual keepsake to display in your adopted child's bedroom (or wherever) to constantly remind them how much they are loved. Priceless!
Where To Find Adoption Puzzles
Ready to get started? Get creative! We recommend that you customize your own puzzle with artwork or an image, buy one to match the child's room theme or color scheme, or even use one that is special to your family (i.e. a favorite vacation spot or sports team). Just remember, this is going to be a keepsake, so choose something that you think will remain special throughout the years.
There are a lot of sites online that allow you to create your own custom puzzle in minutes or choose from pre-designed puzzles. It depends on the company and style you choose, but most puzzles will cost between $20 and $50 and arrive in 1-2 weeks. A few places to look for your jigsaw puzzle include:
How An Adoption Puzzle Fundraiser Works
Check out the details from the Thatcher family below to learn how to introduce the puzzle fundraiser to your friends and family on your personal blog. As donations come in for each puzzle piece, be sure to publicly "thank" individuals by taking photos of their sponsored puzzle piece after you have written their name(s) on it. We have found the best way to do this is to either post the photo on a friend's Facebook wall and give a shout-out to them there, or post the photo on your own wall, tagging them in the update. Either way, the "thank you" is public and visual, allowing exposure of your adoption puzzle fundraiser to reach far beyond your own circle of friends.
You can also do weekly blog updates on your site and include pictures of all of the puzzle pieces sponsored throughout the previous week. Once your puzzle is complete, you can finalize it in a variety of ways. Our suggestion is to buy a float frame so that you can take it down from time to time to take a look at all the names on the back. Your child will love this, and you will be encouraged to look back at all the names of friends, family and even some strangers who helped you bring your precious child home.
The excerpt below was written by Sarah Thatcher from thatcherbaby.com and re-posted here with permission.
International adoption is expensive. Like stupid expensive. Unfortunately, this reality keeps so many amazing couples from taking the steps to adopt. There is a page in our adoption packet that makes me shiver every time I glance at it! Even as I type this and think about the upcoming payments, I am getting anxious! When we first made the decision to adopt, one of the things that we wrestled over was whether or not we would do any fundraising. In a perfect world, we wouldn't have to. There aren't many things more humbling than asking other people for money! It sucks honestly! It's uncomfortable. It's vulnerable. The more we have talked about it though, the more we understand that it isn't about asking people for money, but asking them to be a part of our story. Our kids' stories, in how they got to come home. So we are so excited about this PUZZLE FUNDRAISER!
It works like this: 1. We had a 500 piece puzzle created on Etsy. (We figured between the 2 of us that we have 500 friends right?!) 2. We are "selling" each piece for $20. You can choose to buy 1, 2, 3, or 10! There is no limit! You can even go half with your roommate! 3. To purchase via PayPal, click the "Donate" button that is in the right column of our blog or you can email me ([email protected]) for our address and send a check in the mail. 4. Once you purchase a piece, we will write your name on the back of one of the puzzle pieces and send you a picture. 5. Once every single piece has been "sold", we will put the puzzle together and hang it in a double-sided glass frame for the kids' room so that they can always look back and be reminded of who had a "piece" of bringing them home!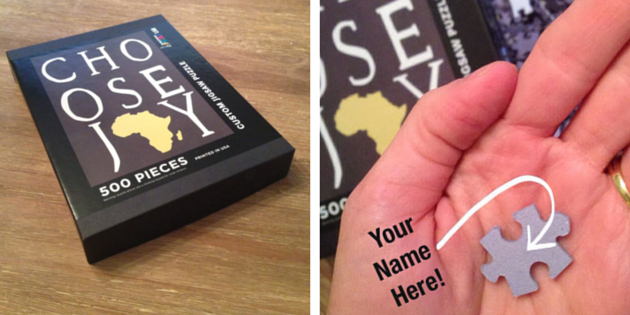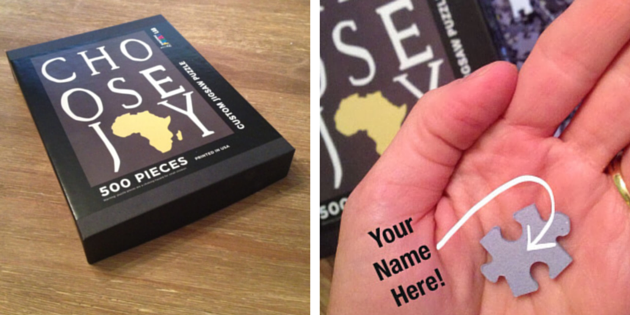 I can picture us sitting down with our kids, reading the names to them and explaining that these are all of the wonderful people who loved them before they even knew them. These are the people who brought them home. Isn't that the cutest?!?! I just love it! I will keep the blog updated with progress in the puzzle and a list of amazing donors. So, our goal with this Puzzle Fundraiser is to sell all 500 pieces which will raise $10,000!!!! That will take care of our upcoming Dossier completion, the Program Maintenance and Development Fee, the Post Placement Fee, and part of the Foreign Fee. How amazing would that be?!?! We'd be honored and humbled to have you be a part of this story.
Want to help us bring our kids home from Uganda!? Click the PayPal "Donate" button in the right hand margin of our blog. If you wish to make an additional donation above the $20 price of a puzzle piece (first of all, that is awesome!), simply put the desired donation amount in the box and proceed to process your payment. The other amazing thing that you could do to help would be to spread this! Share it with your families and friends. Thank you! We love you! Caleb & Sarah
photo credit: echerries via photopin cc
The following two tabs change content below.
Lori Resmer
Child Advocate. Entrepreneur. Fitness Junkie. Mommy and Wife. Lori is an adoption fundraising coach that provides creative strategies and resources that empower families to adopt without debt.
Latest posts by Lori Resmer (see all)
Comments
comments