As Christmas is fast-approaching and you're looking for a unique way to incorporate the holidays to raise funds for your adoption, consider The Love Tree. This creative, DIY fundraiser has the potential to bring in over $11,000! Below is the story of The Love Tree Adoption Fundraiser from Bill and Allison Howard's blog, Love Awaits, that includes instructions on how they set it up (we are sharing it with their permission). We also included additional pointers from our interview with Bill and Allison as well as some personal FYA-advice.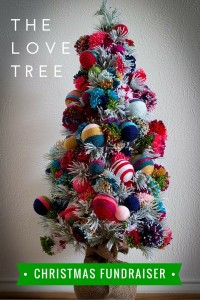 Have you ever heard someone say that the smallest things make the biggest difference? All those little things really can add up to something great.
That's the thought behind our Christmas fundraiser – The Love Tree (Lerato Sefate in Sotho, the language of Lesotho).
Our little love tree holds 150 handmade ornaments, each numbered 1 – 150.  Ornaments can be purchased for the amount marked (1 = $1.00, 50 = $50.00, 122 = $122.00, etc.). If all ornaments are purchased, we will raise over $11,000 for our adoption! That would cover most of our fees to Lesotho for medical care, legal fees, in-country processing, and orphanage care.
Follow the steps below to purchase your ornament:
Select a number from 1 – 150. The list on our Join Us page will show which number are still available.
Donate the amount to our agency. See our Donate page for details.
Email me at p[email protected], and I will mail/bring you your ornament.
Isn't this the coolest thing ever?!?! We just love this one.
We asked Allison and Bill a few questions to get some insight into their fundraiser.
Q: Where did you get the idea for The Love Tree Adoption Fundraiser?
A: We thought of the idea after hearing about folks marking envelopes with amounts from $1 – $250 and having people choose an envelope to fill with the amount marked. We wanted to use this idea but add a Christmas theme and give people something in return. That's where the ornament part came in.
Q: When is the best time to start the fundraiser, for example before Thanksgiving, after Thanksgiving or some other time?
A: We started the fundraiser at the beginning of December, but would actually recommend starting earlier since folks usually decorate their trees on Thanksgiving or just after.
Q: How did you make the ornaments and about how long did it take to make each one?
A: We followed these instructions for one of the ornaments. For the others, I simply hot glued yarn to foam balls. The pom pom ones are really fun and easy and take about 5 minutes each. You can buy your own Pom Pom Maker on Amazon.The ball ornaments take 20 minutes each and are a little more difficult.
Q: How much did you raise in total from this fundraiser?
A: We raised $4,500, which was incredible! You can potentially raise over $11,000 if all amounts are chosen.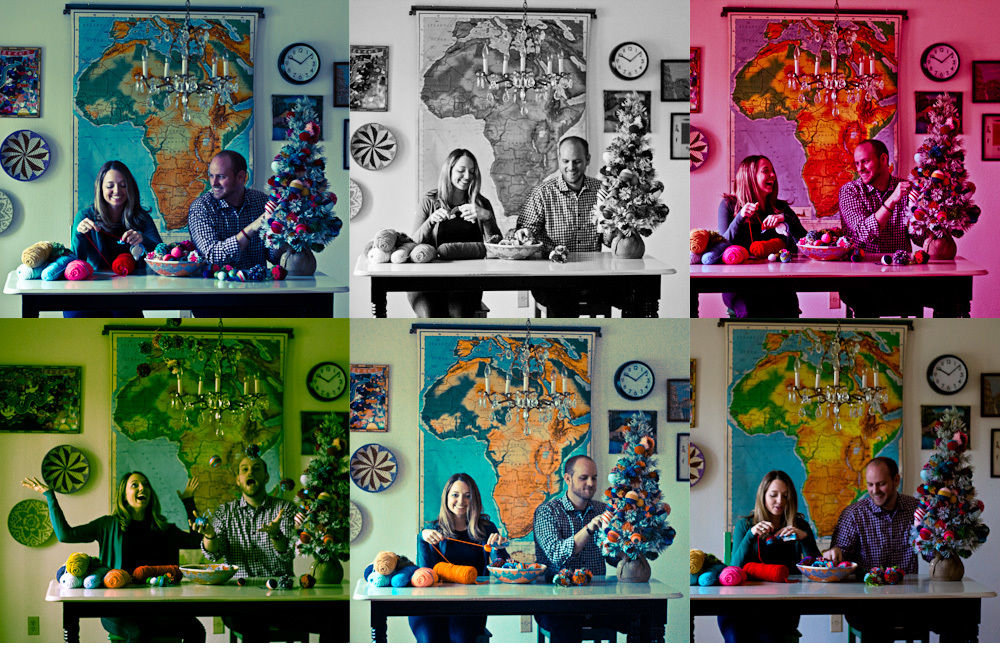 Other Ideas To Consider
Get creative and personal. Make this fundraiser unique to your adoption. For example, if you're adopting internationally, consider making the ornaments colors of the country flag of your soon-to-be adopted child. Consider even making several different types of ornaments by searching on Pinterest. Think of how you can make this special so that when people hang this on their tree each year, they remember your family and how they were a part of bringing your family together.
Add multiple colors of yarn. Here is a YouTube video tutorial that also shows you how to make the pom pom ornament but only uses one color of yarn. However, you can use as many colors as you like. Just wrap a color, tie it off in a knot, and carry on with a different color. After you are all finished, you will use your scissors to trim off any long pieces where you tied your knots.
Use fundraising tools. The Howards created their page on their blog to show people how to donate. Donors could either mail a check directly to their adoption agency (in order to get a tax receipt) or they could donate toward the Howard's adoption via PayPal (which would not provide a tax receipt). They also used their blog to show people which numbered ornaments had been claimed. We highly recommend using Pure Charity since it can be used to manage all your fundraisers and donations! Pure Charity accepts credit card, ACH, and physical checks. All donations are tax-deductible and updated in real-time. They will take care of all the administrative stuff and send tax receipts to all your donors. Plus, they will take care of sending the funds to your agency upon request. Using Pure Charity works great for these types of fundraisers because the funds are instantly tracked and included in your fundraising total (i.e. no waiting on checks to be mailed to agencies and reporting back to you which can take weeks) and the tools they provide you with to thank donors on social media are exceptional. Pure Charity allows lets you update your audience as often as you like and show which ornaments have been claimed.
Showcase your Love Tree. Ask your church if you could set up your "Love Tree" one Sunday morning in the lobby to allow people to donate on the spot and take their ornament home with them that day. Or consider placing your tree in a visible place in a business or storefront where people can read about your cause and donate. Even strangers have been known to provide support for these types of fundraisers!
Merry Christmas and best wishes on your ornament fundraiser!!!
If you've done a really unique DIY adoption fundraiser, we'd love to hear about it and share it with the rest of the Fund Your Adoption tribe!
The following two tabs change content below.
Lori Resmer
Child Advocate. Entrepreneur. Fitness Junkie. Mommy and Wife. Lori is an adoption fundraising coach that provides creative strategies and resources that empower families to adopt without debt.
Latest posts by Lori Resmer (see all)
Comments
comments