Written by Natalie Rose and posted here with her permission.
We've been in the adoption process for 18 months and have been fundraising the entire time. We've done mostly garage sales and online auctions and I was looking for a fun, unique fundraiser that didn't require a ton of work. Because frankly I was burnt out on fundraising! I've had to take 2 trips to DRC in the last 6 months and that, along with the extended foster care fees, has added a lot of extra unexpected expenses for our adoption.

During one of our auctions, I noticed we had a lot of interest in one our items, a superhero cape. I am part owner of a small business that sells clothing and hair accessories for children. Through one of our distributors, we were able to get some awesome capes that came in 15 different styles (for boys and girls). In early October, we launched our Super Hero Cape Fundraiser and it was an instant success! We sold a few hundred capes in just one week and made a profit over $3,000.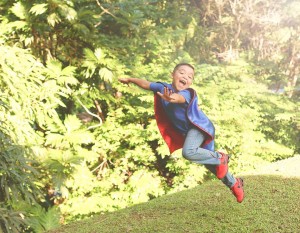 It was such a hit we've decided to share this opportunity with other adoptive families looking for an easy, fun and unique fundraiser. Families profit $10 per cape and we do all the packaging and shipping. You just collect orders! It's a super easy fundraiser and most of our families make between $400 and $1,500 in just a week's time, with very little effort!
How The 
Super Hero Cape Fundraiser Works:
We provide you with photos and information about the capes to share on your Facebook page and/or blog.

You collect orders and $ from your friends and family that want to purchase the capes.

Fundraiser runs for 1-2 weeks.

At the end of the week, you email me the list of capes sold along with the names and addresses of those who purchased them.

Capes cost $20 each + $5 flat rate shipping (no matter how many you buy). You send us $10 per cape + $5 shipping per order (to the same address). You keep $10 per cape and we ship them all out to your friends and family (payment is made by PayPal or check).

Capes ship out within 1 week of your order.
If you're interested in buying super hero capes for your fundraiser, click here.
The following two tabs change content below.
Latest posts by Guest Contributor (see all)
Comments
comments